Wake Up Call - Timed Reminder
Main Operator Console Phone
Call Cost Print Out Software
Office Phones Available
Compatible with Existing Room Phones
Door Phone for Late Arrivals
Auto Answer - Voice Mail
---
Discover how the Panasonic 824 and KX-TDE can automate your Hotel Office, or Home by routing calls 24 hours a day 7 days a week and even on holidays.
The Panasonic 824 is an affordable small hotel system with minimal needs.
The Panasonic KX-TDE is a powerful advanced full featured hotel motel phone system.
---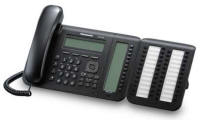 The latest advancements in phone system technology the Hotel Reception Console is no longer needed as a display phone will show the room number that is calling.
---

Choose from a large selection of affordable Hotel Room Phones.
---

The latest Panasonic Cordless Phone System can provide Cordless Phone Coverage of up to an entire Hotel Motel property.
---

Choose from a selection of 3 Office Phones for a Hotel Telephone System.
---

Is not only an amazing addition is can also ring on an in keepers cell phone while out running around town.
An automated attendant system can also route calls 24 hours a day 7 days a week.
All and all a modern Hotel Telephone System can leave more time for the hotel operator to operate the hotel.
The Panasonic 824, NS700, and KX-TDE600 phone system is an affordable Hotel Telephone System that can support analog single line phones for up to 900 rooms, plus one operator or reception phone, with up to 8 to 23 incoming lines.
A typical Hotel Telephone System would not require that many incoming lines.
One unique feature of the Panasonic for a Hotel is it can expand up to 200 telephone ports that can support either a proprietary business multi line phone or what are know as analog room phones.
The Panasonic KX-TDE phone system can accommodate as many as 200 room phones with call accounting for the telephone bill, voice mail, a wake up call and more hospitality features needed for most Hotel/Motel Applications.
The Panasonic 824 phone system can be expanded up to 24 phones for a Hotel. If you have the need for up to 23 Hotel Room Phones plus the need of an office phone with out the need of voice mail the Panasonic 824 would be a good fit for a Hotel Telephone System. If you have the need for voice mail on your Hotel Telephone System an office phone, the Panasonic 824 phone system can support up to 21Hotel Room Phones. The Panasonic 824 phone system can be interfaced with most any Hotel Room Phone as long as it is an analog phone that is not proprietary to any other brand of phone system.
Beside the most popular Hotel Telephone System features named above the Panasonic 824 and KX-TDE has many other useful features for either a Hotel, a Home or an Office. click here
---
What We Offer
Quality Hotel Phones manufactured by name brand electronics manufacturer like Panasonic, Vodavi , & Cortelco.
Support and training for the life of your Hotel Telephone System to the original owner.
Free Phone System Programming
The best way we can Save You Money is if you can get your Hotel Telephone System wired in we can save you money with our free remote programming services with 60 days of updates.
Remote system programming services that lower the cost of maintenance fees as a tech visit is not required.
Hotel Telephone System installation, training, and support available nationwide. All you have to do is say yes and we will have your new Hotel Telephone System installed in days of it's delivery with training. We also provide remote programming services available via an existing Cable/DSL internet connection that will save on maintenance costs.